Lead Climbing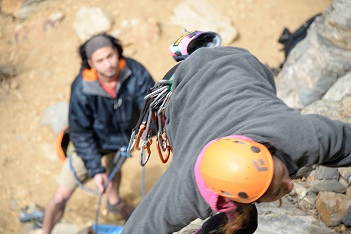 Duration: 6 Hours (approx.)
Location: Golden, CO
So you know the basics of outdoor rock climbing. What's next?
Sport climbing is the technique of ascending cliffs while clipping your rope to bolts, for protection. This method requires more equipment and technique than top-rope climbing.
You will learn:
Bolt Evaluation
Quickdraw Placement
Clipping Technique
Falling Technique
Lead Belaying
Required Equipment:
Climbing Rope
Climbing Shoes
Harness
Helmet
Belay Device w/Carabiner
Quickdraws (10 - 14)
We will confirm this courses availability with in 24 hours of booking based on our available guides. This is an open session and may have other climbers participating.